You are almost there. Please provide us with your email.
We won't use your information to spam or share it with anyone else.
Nuestro Queso Launches Oaxaca Shredded Strips
September 15, 2017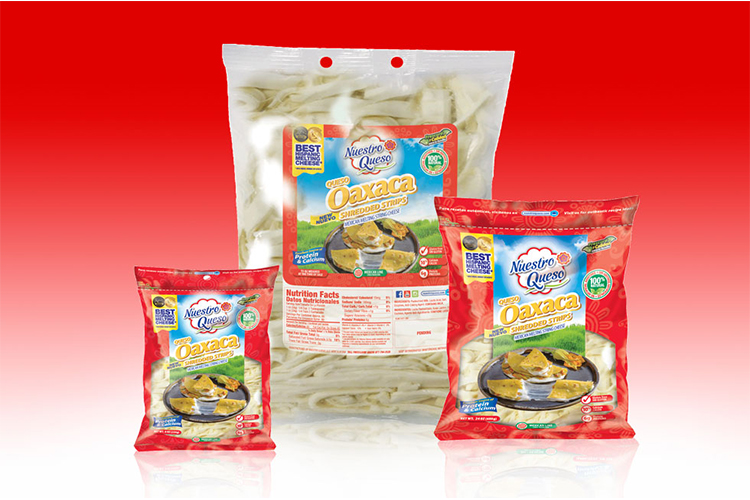 Nuestro Queso Launches Oaxaca Shredded Strips
Nuestro Queso announces the launch of Oaxaca shredded strips, adding more enjoyment to the company's gold medal Oaxaca cheese, company officials say.
Oaxaca cheese, traditionally a ball made up of long, hand-rolled ribbons, is the most popular cheese in Mexico because it melts and strings more effectively than other cheese varieties when heated, officials add. Through its research and market testing, Nuestro Queso developed a shredded strips version for the U.S. consumer who generally prefers a less time-consuming food preparation experience. The new cheese strips can be used as a melting cheese or as a quick and convenient snack.
"We are tremendously proud of this new and compelling cheese product," says Mark Braun, CEO of Nuestro Queso. "In fact, we believe that many top retailers and brands select Nuestro Queso as their co-packing partner because of our deep consumer insights and our ability to leverage our experience as brand owners."
Nuestro Queso's timely launch of Oaxaca shredded strips coincides with mainstream consumers' tastes for more authentic Hispanic cheeses. To help more consumers discover the company's best-in-class authentic Oaxaca cheese, Nuestro Queso also is making the Oaxaca shredded strips available to its co-packing and private label customers.
Nuestro Queso's Oaxaca cheese won gold medals in the category of "Best Hispanic Melting Cheese" from the American Cheese Society in 2014 and from the US Championship Cheese Contest in 2015.
The new Nuestro Queso Oaxaca shredded strips will join an extensive lineup of Hispanic cheeses and will be available in eight-ounce, 24-ounce and five-pound bags. The suggested retail price will be $3.99, $9.99 and $29.95 respectively.