You are almost there. Please provide us with your email.
We won't use your information to spam or share it with anyone else.
State of the industry 2015: Convenience, protein messages rule the cheese category.
September 15, 2017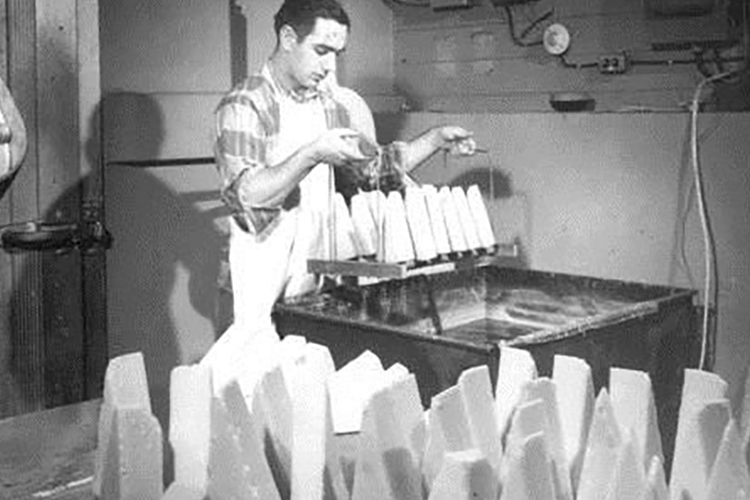 State of the industry 2015: Convenience, protein messages rule the cheese category.
Snacking, convenience and hybrid product innovation are dominating the cheese market right now. As busy consumers replace more meals for more frequent snacking, cheese producers have a unique opportunity to innovate and expand their market.
Cheese production increased from 10.4 billion pounds in 2010 to over 11.4 billion pounds in 2014, according to the USDA's National Agricultural Statistics Service.
Based on the numbers and product innovation, consumers still prefer natural cheese over processed. The natural cheese category saw dollar sales jump 6.5% to $12.7 billion, with units up 2.8% to 3.6 billion, according to Information Resources Inc. (IRI), Chicago, for the 52 weeks ended Aug. 9, 2015. Meanwhile, the story hasn't changed much for processed cheese. While the category's dollar sales dropped only 0.2% to $3.1 billion, the units were down 5.3% to 836 million.
According to Chicago-based Mintel, processed cheese, which represents 19% of the category, reached $4.1 billion in sales in 2014. The segment has struggled in recent years due to perceptions that it is unhealthy and made with unnatural ingredients. One in six consumers who buy or eat cheese (17%) indicate they avoid processed cheese altogether.
Flavor innovation is also helping to drive interest to the category, especially within the specialty cheese segment. Unique flavor combinations, like savory and sweet, are popular among consumers. We'll dive more into flavor innovation later in this article.
According to a Mintel survey, the top reasons consumers buy cheese is because it's affordable and made with high-quality ingredients (both men and women 53%). Men (58%) are significantly more likely than women (48%) to indicate high-quality ingredients are a purchase driver.
Mintel noted that nutritional motivations also are popular — 46% buy cheese to increase their calcium intake, while 45% buy it to increase their protein intake. Manufacturers should tout these claims and make them even more top of mind for consumers, especially as interest in high-protein foods remains on trend.
Let's talk about protein
Protein, as in many other areas of dairy, is driving conversations and product innovation, especially with regards to snacking. According to a report by Fona International, Geneva, Ill., 63% of consumers look for protein content when purchasing packaged food and drink, while 57% are trying to get as much protein as possible into their diet.
"[Consumers] want bold flavors and convenient products that offer the protein they need to fuel them throughout the day," said Barbara Gannon, vice president of corporate communications, Sargento Foods Inc., Plymouth, Wis.
Sargento answered the call for more protein and good on-the-go snacks, with its launch of Balanced Breaks earlier this year. The snack packs feature a combination of natural cheese, roasted nuts and dried fruits, in flavor varieties like Natural White Cheddar, with sea-salted almonds and dried cranberries. It has 7 grams of protein per pack.
Borden Cheese, Kansas City, Mo., created a similar concept, which is made and distributed by Dairy Farmers of America, Kansas City, Mo. The company introduced Good2gether snack trays, a portable pack that combines natural cheese and mini-twist pretzels in a prepackaged container. It contains 11 grams of protein per serving/package. Flavor varieties for the cheese cubes include mild or sharp Cheddar and Pepper Jack cheese. The package also features an easy-to-peel-back lid, adding to the convenience.
These companies weren't the only ones focusing on protein and snacking. We see hybrid innovations like this popping up across the category. Snacking has become a big business for cheesemakers.
The snacking way
The snacking industry represents over $124 billion in retail sales in North America, according to Fona International. On-the-go snacking is a growing trend, up 5% since 2009 with 45% of consumers looking for convenient, easy-to-pack snacks.
The hybridization of snacks is a response to a shift in consumers' eating habits. Instead of the "three square meals and a snack" pattern, consumers now snack between meals, with meals and instead of meals, according to Mintel's Snacking Motivations and Attitudes, U.S. 2015.
Hybrid snacks – those that combine foods not traditionally eaten outside of the meal occasion – are becoming more popular as consumers' snacking and meal-time food choices blur, according to Mintel.  These new snacking patterns give manufacturers broad latitude to integrate a number of different foods into the snack occasion.
As you can see with Borden and Sargento above, many processors are already seeing this opportunity and acting on it.
Reichel Foods, Rochester, Minn., introduced a new snack called Pro2snax. The single-serve package features fresh produce paired with a healthy protein, like cheese. Initially, the product is available in two varieties, sliced apples and mild Cheddar cheese and Gala apples and almonds. A package of the cheese variety has 4 grams of protein.
Alongside these snack pack options, other processors have introduced mini varieties or convenient packaging for its cheeses. The smaller sizes play into a desire for portion control as well.
"Innovation provides the greatest opportunities for growth in the dairy case," said Sargento's Gannon. "Our Ultra Thin Slices continue to be extremely popular, and the product is a direct result of innovation. We sliced natural cheese so thin that it provides greater flexibility for consumers to control calories and portions."
Trugman-Nash LLC, Millburn, N.J., launched Croc Bites, snack size portions of the company'sOld Croc Australian sharp Cheddar cheese. The individually wrapped 3/4-ounce portions contain 5 grams of protein each.
Organic Valley, LaFarge, Wis., introduced organic snacking cheese which is being marketed to adults. The Snack Sticks come in two varieties (medium Cheddar and Pepper Jack) and are packaged in individually wrapped sticks.  Each 0.75-ounce stick contains 5 grams of protein. The Tillamook County Creamery Association, Tillamook, Ore., launched kid-friendly cheese sticks in two varieties (medium Cheddar and Colby Jack). Each 0.75-ounce stick contains 5 grams of protein.
Crave Brothers Farmstead Cheese, Waterloo, Wis., added three new cheese products that are ideal for snacking and convenience: Farmer's rope mozzarella sticks in an 8-ounce package; a 1-pound part-skim mozzarella ball; and 12-ounce bags of fresh Cheddar cheese curds.
Nuestro Queso, Rosemont, Ill., producer of Hispanic-style cheeses, upgraded all of its packaging, which hit stores this month. The packaging change focused on convenience, new sizes and highlighting important aspects about the cheese — with callouts like 100% natural, and protein and calcium claims.
"The packaging will also show consumers how they can use the cheese in delicious authentic Hispanic dishes," said Arturo Nava, marketing director, Nuestro Queso.
Some of the changes include a new Oaxaca shredded strips product, available in 8- and 24-ounce bags and 5-pound bags. The company's Para Fundir (quesadilla-style cheese) is available in a 10-ounce round. It was previously available in a square. And its Oaxaca ball is now available in a 10-ounce multi-vac package.
Flavor innovation
Combinations of savory and sweet, bold flavors (like bacon, habanero and ginger) and smoked varieties are showing up in new cheese products.
Specialty peppers and new flavor combinations are popular, and cheese hybrids represent new ventures made possible with new technology, said Terry Brockman, president and COO,Saputo Cheese USA, Lincolnshire, Ill.
Saputo Cheese added two new flavors to its Frigo Cheese Heads line of Wisconsin Snacking Cheeses — Cheddar with Parmesan Notes and Colby Habanero. In the company's Great Midwest cheese brand it added a horseradish Cheddar cheese flavor (sold in slices) and cranberry Cheddar cheese flavor (in loaves).
The Laughing Cow, a brand of Chicago-based Bel Brands USA, added a Spicy Pepper Jack to its lineup last year (delivering on the spicy trend). Last year, the company also put the focus on snacking with a "Reinvent Snacking" campaign, which emphasizes the snacking experience and truly savoring the food.  Along with the launch it updated all of its packaging to highlight the benefits of the cheese, like its low-calorie count. The company said it will be adding a ninth flavor to its line in early 2016, and is also looking to add a new on-the-go snacking solution next year.
Minnetonka, Minn.-based Crystal Farms, a subsidiary of Michael Foods Inc., introduced a bacon Cheddar flavor in its line. The cheese is made with real bacon and creamy white Cheddar, and is available in slices or chunks. The company also added a new Gouda Lovers Line – a line of creamy Gouda cheese available  shredded, sliced and in blocks.
Alouette Cheese, New Holland, Pa., launched two low-calorie, French-inspired cheese snack options – Le Bon Dip (a cheese and chunky vegetable dip) and Le Petite Fromage (portioned flavored cheese spreads). The flavors are unique, including garden salsa, and Parmesan and basil in the Petite portions; and basil, zucchini and Parmesan, and roasted red pepper and chickpea in the cheese dips.
Cheesemakers are turning up the heat with smoked varieties.
Tillamook's Smoked Provolone Slices replaces its Provolone Slices. This semi-soft provolone is unique in that it is smoked naturally with hickory for six hours to achieve rich flavor and aroma, said Joe Prewett, director of Product Management & Innovation, Tillamook.
Jarlsberg cheese, a brand from Norseland Inc., Darien, Conn., added a pre-sliced Hickory Smoked Cheese flavor to its line, which the company said is new to the United States. It also introduced Applewood smoked Cheddar minis under its Ilchester brand of imported British cheeses.
An Apple Smoked Sharp Cheddar was added to Old Croc's line of cheese as well. The non-GMO Australian cheese is made with milk from grass-fed cows.
The specialty spotlight
A good place to find bold flavors is in the specialty cheese department. Artisan cheesemakers push the boundaries with flavors like cranberry, blueberry, chocolate, spicy ginger and cinnamon.
Specialty cheese has become a key player within the deli space, representing roughly 12% of total deli sales and ranking as one of the top 10 fastest growing categories within deli, according to the International Dairy-Deli-Bakery Association (IDDBA).  Its "Total Store Connectivity: Revealing New Pathways to Win – Specialty Cheese" report was developed in conjunction with Nielsen Perishables Group.
Other findings from the report show:
Consumers who purchase specialty cheese have nearly double the basket size of the average shopper.
Specialty cheese strongly connects to 83 store categories, which represent around 25% of total store sales and spans across 50% of store departments.
Specialty cheese connects well with categories like: Fresh, home cooking occasions (produce spices, beef steak and salmon); Entertaining occasions (bakery breads, deli dips and snacks); and Indulgent bakery occasions (cakes, cookies and sweet goods).
"As the marketplace has globalized and people have become more educated about what they eat we are seeing an increase for more unique and specialized products," said Sue Merckx, director of marketing, Sartori Co., Plymouth, Wis. "Smaller sizes and price points vary based on the type of products – more unique premium products can command a higher price point compared to more mainstream items."
Merckx continued, "Smaller portions in the deli case also allow people to purchase [or] sample a variety of unique and different items to enjoy at home with family or for entertaining. In upscale restaurants there seems to be a growing trend for a specialty cheese course. These courses can include an array of unique cheese products with appropriate pairings."
Sartori introduced Citrus Ginger cheese to its BellaVitano line earlier this year. The flavor is hand-rubbed with a blend of spices including ginger, onion, garlic, red bell pepper and citrus.
"Educating consumers on all cheese products is key for growth in the specialty cheese category. The more people know and understand about a product the more willing they are to purchase the product," said Merckx. "One of the biggest challenges we see in the category is the ability of the consumer to decipher and understand what the differences are between all the cheese products that are being offered out to them."
Overall, the future looks promising for cheese. As Mintel summarized, cheese continues to benefit from high household penetration due to its relative affordability, versatility, and variety of flavors and formats. The category is well-positioned for future growth especially as snacking occasions overtake standard meals and more than a third of consumers buy cheese specifically because they are snacking more frequently.
What's the industry buzzing about?
High-protein
Convenient packaging
Snacking
Non-GMO
Grass-fed
All-natural
Clean-label
Hybrid cheeses
Bold flavors
Local ingredients
Lactose-free
Portion control
For the 52 weeks ended Aug. 9, 2015. Total United States — Total U.S. multi-outlet (supermarkets, drugstores, mass market retailers, military commissaries and select club and dollar retail chains). Source: Information Resources Inc. (IRI), a Chicago-based market research firm. Note: Sales rankings shown are for individual brand line listings, not total brand listings.